Contact Us
HuiGoo Optic Co.,Limited
Mob:+86-013510362835
E-m:sales@huigoooptic.com
Skp:sales@huigoooptic.com
QQ:1732357465@qq.com

Address: 8 floor,jinhua building,Longhua New Street,Shenzhen,China
Products
Factory Fiber Media Converter 1000Base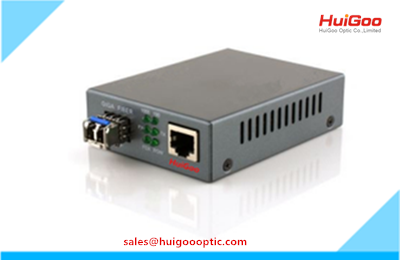 Category: Media Converter
Source: Gigabit Fiber Media Converter
Driver: HuiGoo Optic Co.,Limited
Housing: Gigabit Fiber Media Converter

Inquiry now
or

Send email
We highly appreciate your feedback.
TEL: +86-013510362835
E-mail: sales@huigoooptic.com
Product Details
Contact Form
Recommend Products
550m,1310nm Gigabit Fiber Media Converter - 1000Base-LX, LC Multimode
The Media Converter complies with IEEE 802.3z, IEEE 802.3AB Standards. It is designed to convert data signal between 10/100/1000Base-T and 1000Base-LX fast Ethernet. It supports 10/100/1000Base-T and 1000Base-LX applications. The data signal converted by such high performance media converter can be transmitted up to 550 meters maximum over multimode fiber.

The Converter is equipped with two fiber optic connector ports (One for transmitting-TX and another for receiving-RX) and one RJ-45 Jack and one external power supply receptacle. Six LED indicators are built-in for easy diagnosing and monitoring the status of power, Unshielded Twisted Paired (UTP) Link, UTP Activity, Fiber Link, Fiber Activity, Full duplex and data rates. It can be configured automatically for Full Duplex or Half Duplex operation.

It is compact, cost-effective, low dissipative, high reliable and stable. It can be used in standalone applications, or Rack-Mounted applications where multiple media converters can be inserted into a rack-mount chassis (up to 16 units), and allowing all the converters to be powered by a single internal power supply.
Features:
Data Rate (Mbps) - 10/100/1000 with Auto-Negotiation

Mode - UTP Half or Full Duplex

Optical wavelength - 1310nm

Fiber Type (micron) - Multi Mode 50/125, 62.5/125

Connector Type - One UTP RJ45, Two LC Fiber

Max Distance - 550 meters over 50/125, 220m over 62.5/125

Power Supply - External AC-DC Power Adapter, US Standard

Size - 95mm x 71mm x 26mm

Optical Ouput Power - -10 to -4 dBm

Receiving Sensitivity - -17 dBm

Saturability - ≥ -3 dBm
Specifications:
| | |
| --- | --- |
| Color | Gray |
| Connector A | LC Female |
| Connector B | RJ45 Female |
| Fiber Type | Multimode |
| Maximum Data Transfer Rate | 1 Gbps |
| Maximum Transfer Distance | 550m |
| Wavelength | 1310nm |
| Manufacturer | Networx™ |
| GTIN | 965387514300 |
| Weight (Lbs) | 0.85 |
| Availability | In stock |
If you are interested for our products, pls feel free to contact us. TEL:+86-013510362835. Email: sales@huigoooptic.com