Contact Us
HuiGoo Optic Co.,Limited
Mob:+86-013510362835
E-m:sales@huigoooptic.com
Skp:sales@huigoooptic.com
QQ:1732357465@qq.com

Address: 8 floor,jinhua building,Longhua New Street,Shenzhen,China
Products
Fiber Optical Jumper Patch Leads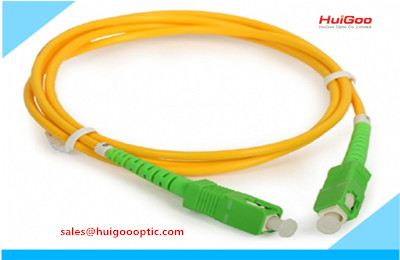 Category: Fiber Patch Cord
Source: Optical Patch Cord Multimode Fiber Optical Jumper
Driver: HuiGoo Optic Co.,Limited
Housing: Optical Patch Cord Multimode Fiber Optical Jumper

Inquiry now
or

Send email
We highly appreciate your feedback.
TEL: +86-013510362835
E-mail: sales@huigoooptic.com
Product Details
Contact Form
Recommend Products
Fiber Optical Jumper Patch Leads
HuiGoo's optical fiber patchcord multimode fiber optic jumper fiber optic patch cord is a length of fiber cabling fitted with LC, SC, FC,MTRJ or ST fiber connectors at each end.The LC, a smaller form factor fiber optic connector, is most commonly used. Fiber jumpers also come in hybrid varieties with one type of connector on one end and another type of connector on the other. Jumpers are used in the same manner as patch cords, to connect end devices or network hardware to the structured cabling system.
Features
High dense spaces
Ceramic ferrules connectors
Half the size of standard connector
Low insertion loss,high return loss
Excellent mechanical endurance
High credibility and stability
Good in repeatability and exchangeability
100% Insertion,Return Loss, End face and Interference inspection
Applications
Telecommunication
CATV,FTTH,LAN
Fiber optic sensors
Optical transmission system
Test equipment
Specifications
Parameter
FC,SC,LC
ST,MU
MTRJ
SM
MM
SM
MM
SM
MM
UPC
APC
UPC
UPC
UPC
UPC
UPC
Operating Wavelength(nm)
1310,1550
850,1300
1310,1550
850,1300
1310,1550
850,1300
Insertion Loss(dB)
≤0.2
≤0.3
≤0.2
≤0.2
≤0.2
≤0.2
≤0.2
Return Loss(dB)
≥50
≥60
≥35
≥50
≥35
≥50
≥35
Repeatability(dB)
≤0.1
Interchangeability(dB)
≤0.2
Plug times(times)
≥1000
Tensil Strength(N)
≥100
Durability(dB)
≤0.2
Operating temperature(℃)
-45~+75
Storage temperature(℃)
-45~+85
1、Specifications may change without notice.
2、Above specification are for device without connector.
APC and UPC
| | | |
| --- | --- | --- |
| Mode number | Single-Mode | Multi-Mode |
| Length | (10.50±0.05)mm | (10.50±0.01)mm |
| Outer-diameter | (2.4990±0.0005)mm | (2.4990±0.0001)mm |
| Inner-diameter | (0.125+0.001/-0)mm | (0.126-0.129)mm |
| Concentricity | ≤1.0 | ≤4.0 |
If you are interested for our products, pls feel free to contact us. TEL:+86-013510362835. Email: sales@huigoooptic.com